STAGE 1 - SITE INSPECTION
A visit to your property will be necessary by one of our site surveyors in order for us to assess your property and its current state of repair.
At this time a full measure of your walls will be taken and your fixed price will be worked out based on the findings of our survey.
On acceptance of our quote your job will be booked in for the work to begin.
STAGE 2 - WORK COMMENCEMENT
We will start work on 1 elevation at a time so to create as little disruption as possible to the owner.
All walk ways paths shrubs etc will be sheeted using appropriate coverings in order to protect these areas.
Walls will be cleaned using a bio side wash were or if necessary and scraped using a wire brush scrapers or needle gun.
In order to remove loose and friable deposits contained on the wall surface.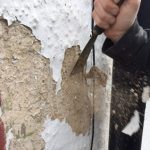 STAGE 3 - FINDING DEFECTIVE AREAS
All window and door will be temporally masked while repair work is carried out.
Hammer testing of all external shall be carried out in order to sound out any hollow or defective areas of render pebbledash.
Once these areas are located they will be removed in preparation for the making good process.
Cracks which are not blown will be channelled and opened up using a masonry grinder.
STAGE 4 - REPAIRING DEFECTIVE AREAS
All areas that have been removed or opened up on the surface will be then made good.
These areas will be good with a lime base cement render system.
All making good will be blended in to match and hide with in the original profile of the building.
STAGE 5 - PREPARATION FOR WALL STABILISATION
All doors and windows will be re masked this will include all gutters down pipes and any out door lighting.
All floors patios shrubs and drives will be protected using appropriate sheeting.
Your walls are now ready for the external surfaces to be stabilised.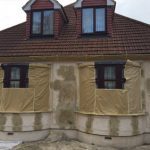 STAGE 6 - STABILISATION KEY COAT
This coat can be applied either by brush or heavy duty spray equipment dependent of your wall type.
This application of active resin will soak up to 17mm into the substrate of the external surface in order to stabilise the wall.
In turn this will give a good base coat for the weather proof resin to adhere to.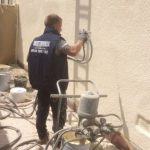 STAGE 7 - THICK RESIN BOND COAT APPLICATION
No matter what the surface type this coat will always be applied with high pressure spray equipment.
This coat will be applied at no less than 100 psi allowing 1 kilo per square meter to be applied over all externals.
This will create a long lasting decorative weather proof surface for years to come.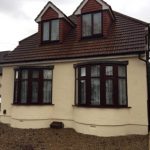 STAGE 8 - SITE CLEANSING
All windows doors gutters and down pipes will be de-masked.
All walk ways patios and drive ways will be swept and cleaned all debris will be removed from site.
A final inspection of our completed workmanship by the crew leader in conjunction with the property owner.
Once the owner is happy with the final inspection a satisfaction note will be presented for approval and signature
NOW WORK IS COMPLETED YOU CAN SIT BACK AND ENJOY YOUR WEATHER PROOF MAINTENANCE FREE WALLS FOR YEARS TO COME, GUARANTEED FOR 20 YEARS.
Call our expert team on 0800 999 2932 for your a site visit and no obligation quote.