Exterior Wall Coatings
Exterior wall coatings is an elastomer poly resin based high build protective wall system designed to create a weather proof barrier over external walls with a proven track record with in the industry.
This exterior wall coating will provide a tough breathable long lasting surface which is extremely flexible proven to withstand building expansion and contraction.
Once applied to an exterior wall this product will become permanently bonded to any exterior building substrate. That's why we are able to offer 20 year guarantee on all our wall coating applications.
Painted Exterior walls becomes powdery and friable with age and quite naturally absorbent to wind driven rain. Expansion and contraction caused by extreme weather conditions during the dry summer months followed by a predominately damp winter can cause hairline cracks to appear. Left unattended they then become full blown fissures giving an ingress of water to the brick or block substrate beneath, the external walls are now in danger of crumbling.
Complete re-rendering is expensive and will turn your home into a building site and ultimately leaving you with an outdoor wall painting problem which will do nothing other than provide you with an occupational therapy programme for many years to come.
Alternatively you could invest in total preservation of your most valuable asset.
<strong>Treatexwall</strong> resin bonded decorative and protective exterior waterproof coatings have been specified for masonry type exteriror walling subject to harsh climatic conditions throughout the UK over a period of thirty-five years with guaranteed proof of performance. Available in a range of heritage pastel shades, brilliant white, or a colour of your choice.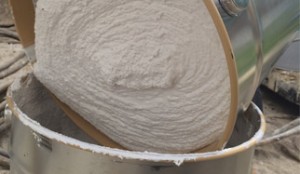 THICK RESIN BOND COATING
What are the benefits of having your walls treated with our Resin based wall system
Totally weather proof
Allows exterior walls to breathe
Excellent adhesion
Extremely flexible
Mould and algae resistant
Bonds old and new renders together
Withstands building expansion and contraction
Will not chip flake or peel
Very tough and long lasting
Insulates cold and damp walls
No need for constant repainting
Improves curb appeal
Maintenance free
All year round application
Fully Guaranteed for 20 years
Renovates decorates and protects
Can add value to the resale price of your home