Insulating Exterior Wall Coating
35% of heat loss is caused by un-insulated walls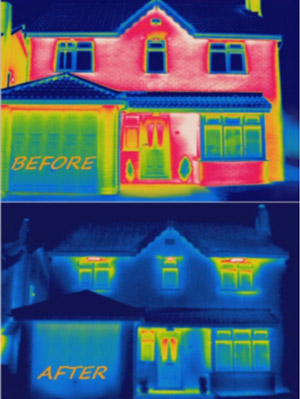 Insulating masonry coating for external walls
Treatex with perlite is an energy-saving, exterior wall coating. This specialist application of Treatex is perfect for pebble dash, rough cast brick and smooth render and will help to reduce heat transfer through solid walls. Totally weather proof and breathable. Building repair work caused by rain water ingress and freezing conditions will be eliminated once and for all.
This coating for external walls is recommended for use on residential, commercial and industrial buildings. It helps to keep internal temperatures more comfortable, by protecting the walls that are exposed to extreme weather conditions.. Completely safe, non-toxic and environmentally friendly coating that is a fast and cost-effective way to insulate and protect buildings that would be difficult to shield with conventional methods.
How Treatex Insulating Masonry Coating Works?
This coating contains perlite a highly efficient thermal barrier to reflect, refract and dissipate heat, dramatically reducing heat transfer through solid walls. Additionally this premium-quality coating protects the walls from extreme weather damage (e.g. driving rain, snow, intense temperatures of heat or cold by forming a breathable, fully weather-resistant surface. Treatex Insulating Masonry coating works proudly for construction companies and painting contractors around the world for use on a variety of buildings which require a top-grade weatherproof external coating.