Damp Proofing External Walls
Evidence of damp penetration from within invariably occurs with ageing solid wall construction. Undertaking an application of Treatex exterior weatherproof coating prevents any further ingress via the treated outdoor wall area. Available as a clear impregnation for feature brick and a range of heritage colours for previously painted masonry. The application is applied under pressure by factory trained technicians and fully guaranteed for fifteen years. We offer the best damp proofing for external walls, find out more below!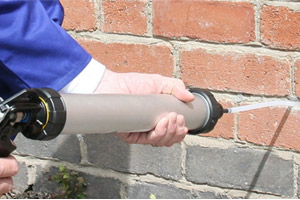 However evidence restricted to the lower levels, up to a metre hire suggests yet another damp problem. A failing Damp proof course can be detected by metering and will require an injection of Dry Zone around the perimeter prior to the application Treatex and fully guaranteed.
Damp problems associated with cavity wall construction are unlikely but can occur when the location suggests severe exposure to wind driven rain. Total saturation via porosity of the outer skin will bridge a fifty m.m. cavity when assisted by debris or insulation material. Treatex exterior wall weatherproofing will resolve the problem with the aid of dehumidifiers to take care of the drying out process. Exterior wall finishes embrace a variety paints available off the shelf for wall painting. Primarily aimed at the DIY market the majority of these are water borne products to provide ease of application to the external wall and are ideal for a cosmetic appearance without weatherproof protection. With limited durability the frequency of repainting will depend upon exposure and location. If you are in need of damp proofing for external walls then look no further than Treatex Wall Coatings! Fill in the contact form now to get in touch!